In collaboration with area non-profits, artists, and educators, the Gallery at the Kranzberg Arts Center provides a supportive platform for creative innovation in our community. Experimental in nature, the Gallery encourages artists to challenge established concepts of what art is and does, and through an emphasis on mixed media forms, engage with our community in new and meaningful ways. Since its inception into the Kranzberg Arts Center in the fall of 2014, exhibitions have included works in digital projection mapping, music, film, painting, street photography, and mixed media sculpture. The Gallery has also hosted a variety of creative workshops, and has been the stage for dance and theater events. Its versatility as an events space has also made it one of Grand Center's premier venue to host fundraisers and private parties.
The Gallery welcomes a diverse range of artistic voices and visions into an environment that fosters conversation and collaboration. In a city with a history mired in segregation, it is a place where worlds intersect, and the re-imagining of our community can begin. As the Gallery continues to reflect the vibrant spirit of our community, so will it assist in building St. Louis's reputation as an arts destination.
2019 Exhibition Calendar: Chaos
In a world seemingly out of control, the human spirit is profoundly sparked and aroused to defiance and hope. The 2019 Exhibits seek to answer questions such as: How do we adapt in response to these overwhelming conditions? What still matters in a world turned upside down? Where do we find the strength to stay firm in our convictions? How do we find the hope to dream and create a better world?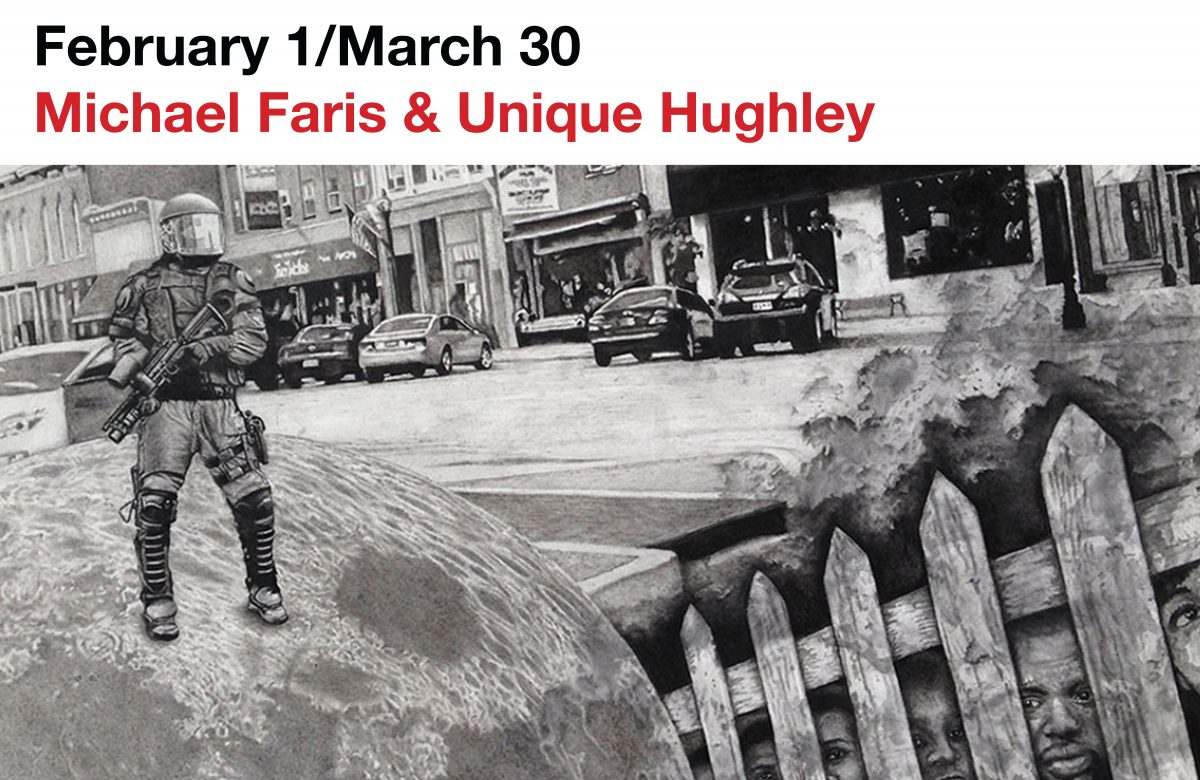 "The Riot Show" by Michael Faris and Unique Hughley
Showing Friday, February 1 through Friday, March 30
Artist Talk/Opening February 1 6pm-9pm
Michael Faris and Unique Hughley collaborated on this exhibit, which combines visual montages by Michael Faris, based on the civil unrest that continues to be evident in our society, and written words by Unique Hughley that express the discomfort and fears based on the same conditions that Faris refers to in his images. Each has been influenced by the protests in Ferguson, Mo. and they continue to express their frustration with the continuation of similar incidents all over the U.S. and around the world.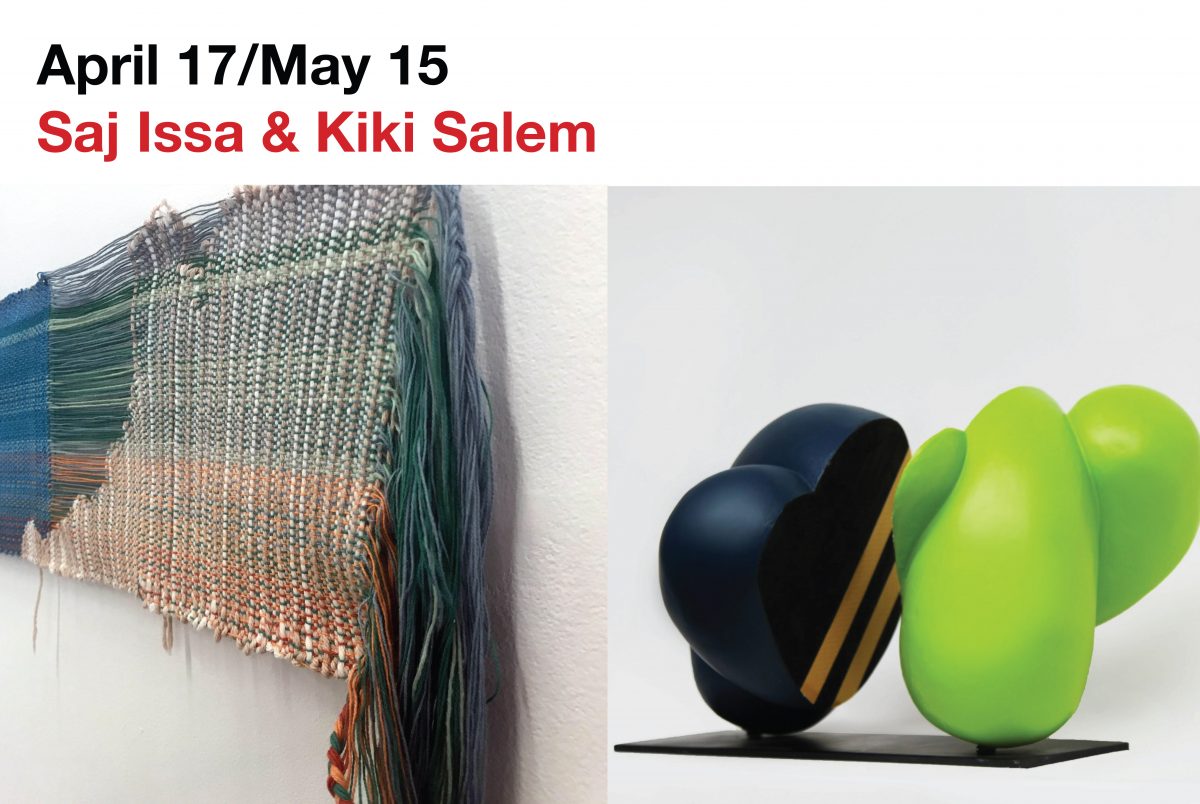 "Back Home in Your New Home" by Saj Issa and Kiki Salem
Showing Wednesday, April 17 through Wednesday, May 15
Both Sajed Issa and Kiki Salem have multi-cultural backgrounds that have influenced both their choices in medium and their particular use of traditional methods. Using ceramics and weavings, they create blended innovations that allow the viewer to see these ancient processes in a new context. They both seem to apply strict control and order in their work, but each still allow for abrupt changes and surprises within a repeated pattern.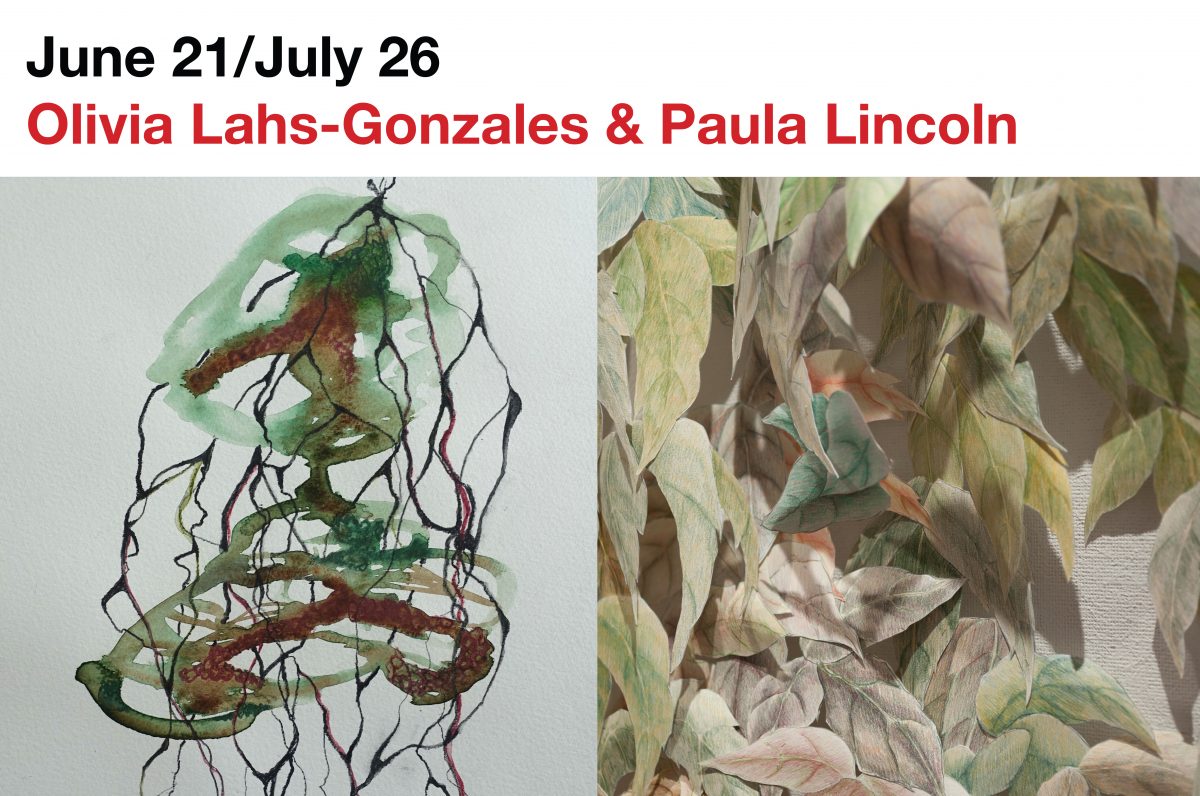 Rise: New Works by Paula Lincoln and Olivia Lahs-Gonzales
Showing Friday, June 21 through Friday, July 26
Olivia Lahs-Gonzales and Paula Lincoln collaborate in an exhibit that references the natural world through sculpture, organic drawings and photography. Olivia Lahs- Gonzales has created spontaneous ink drawings that suggest natural growth and patterns. She has selected from her photographic work images that are equally abstracted while clearly existing in the natural world. Paula Lincoln creates sculptures, both tiny and large, that are made through the use of repeating single forms that in combination with each other become bigger.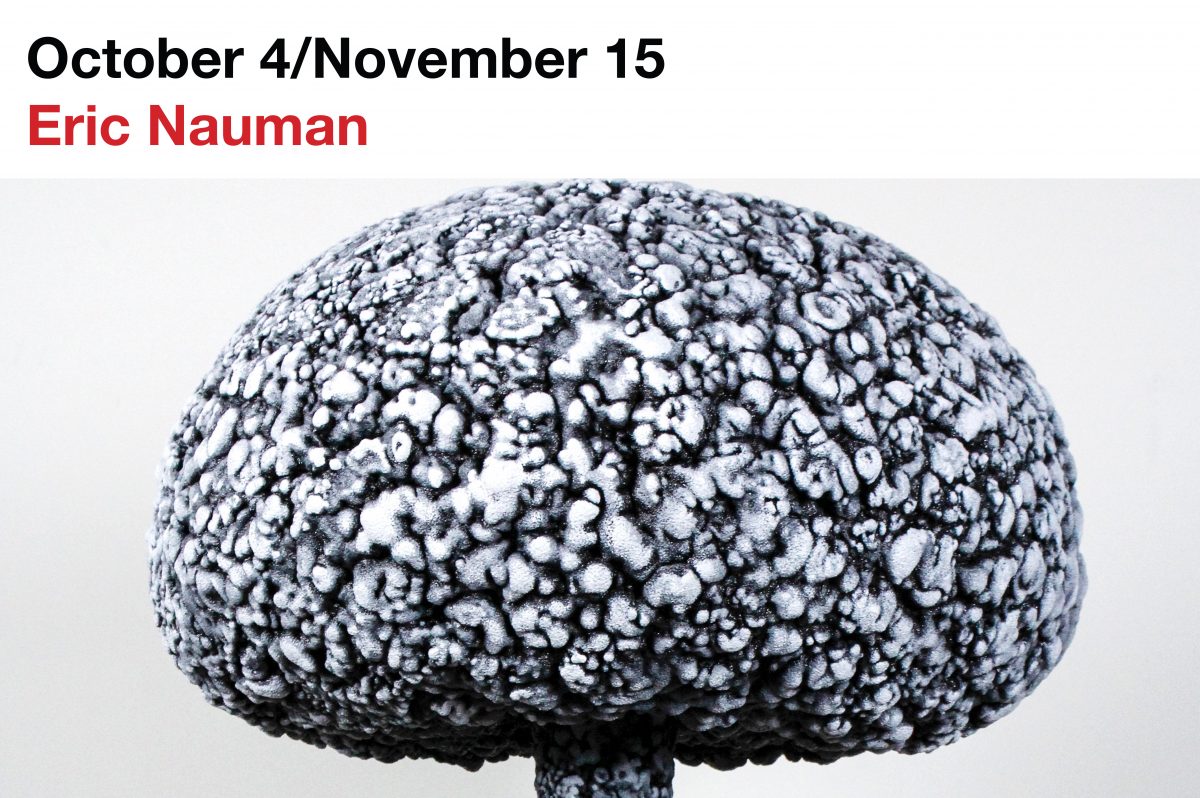 Artwork of Eric Nauman
Showing Thursday, October 10 through Friday, November 15
Eric Nauman takes direct shots at the corruption on the world stage. He is directly questioning both the social values that lead to unrest and those that lead to apathy and complacency. Nauman is an idealist and has the artistic skills as a sculptor and painter to convey his ideas in a compelling way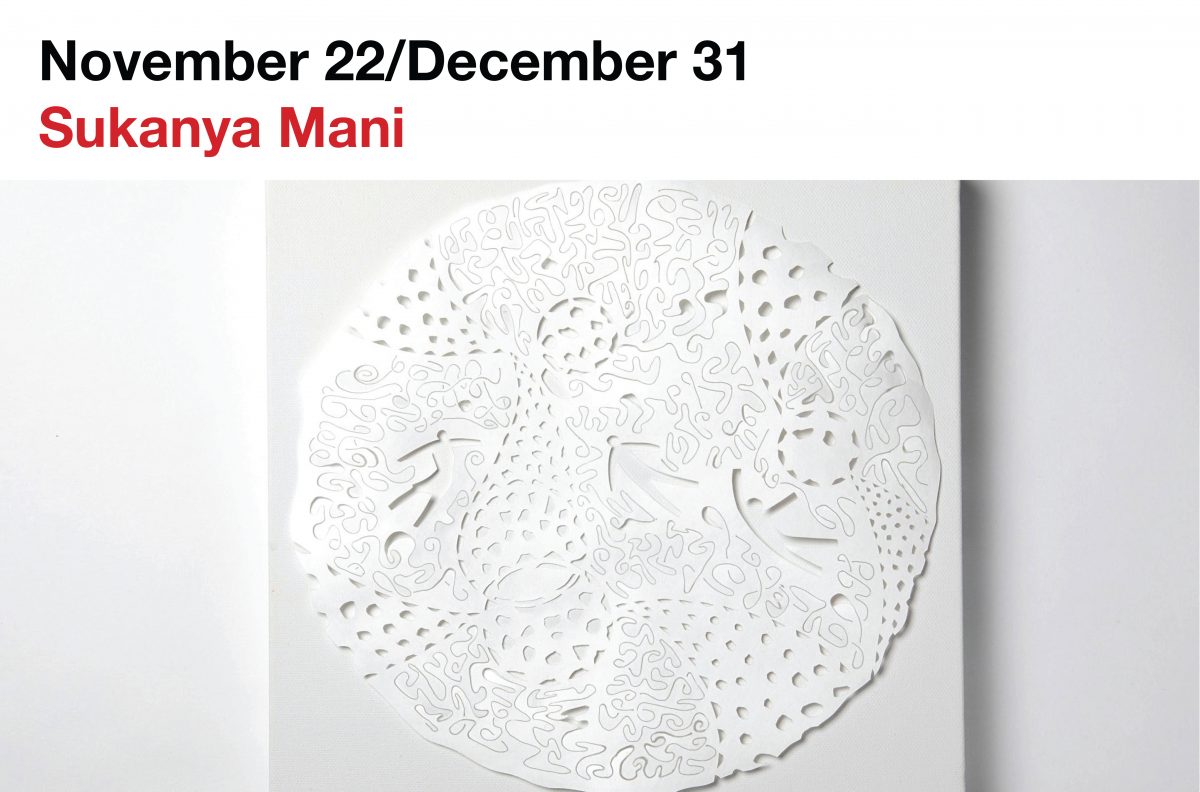 Artwork of Sukanya Mani
Friday, November 22 through Tuesday, December 31
Sukanya Mani is an interdisciplinary artist with a passion for science, anthropology and philosophy. She sees the endless relationships that exist between all fields of study and the components that define human identity. She is using the ancient artform of kirigami, paper cutting, as a means of physically constructing her interpretations of these universes within universes.
Invitational Community Programming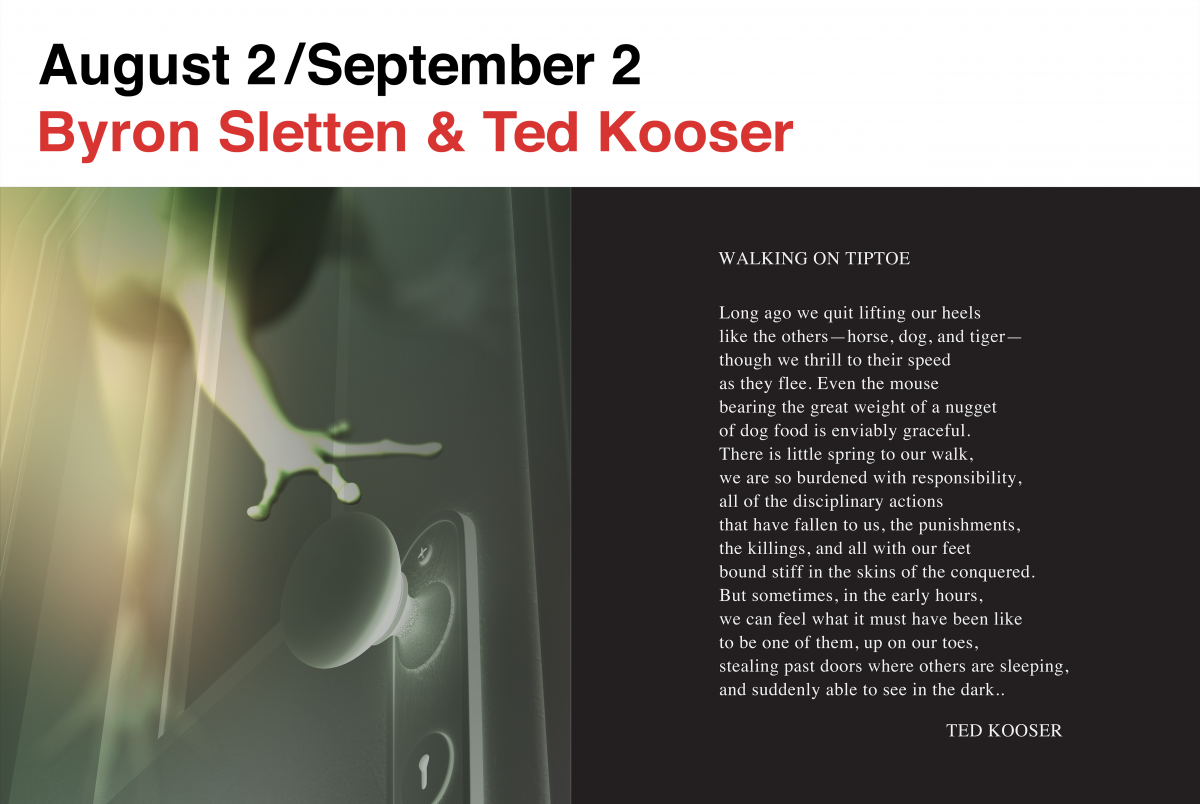 Poems At An Exhibition: New Works by Byron Sletten and Ted Kooser
Friday, August 2nd through Sunday, September 1st
This is a collaborative print exhibit with visual artist, Byron Sletten and Pulitzer Prize winning US Poet Laureate, Ted Kooser. This collaboration reflects some common ideas about using familiar references to address "ten-ton" human truths.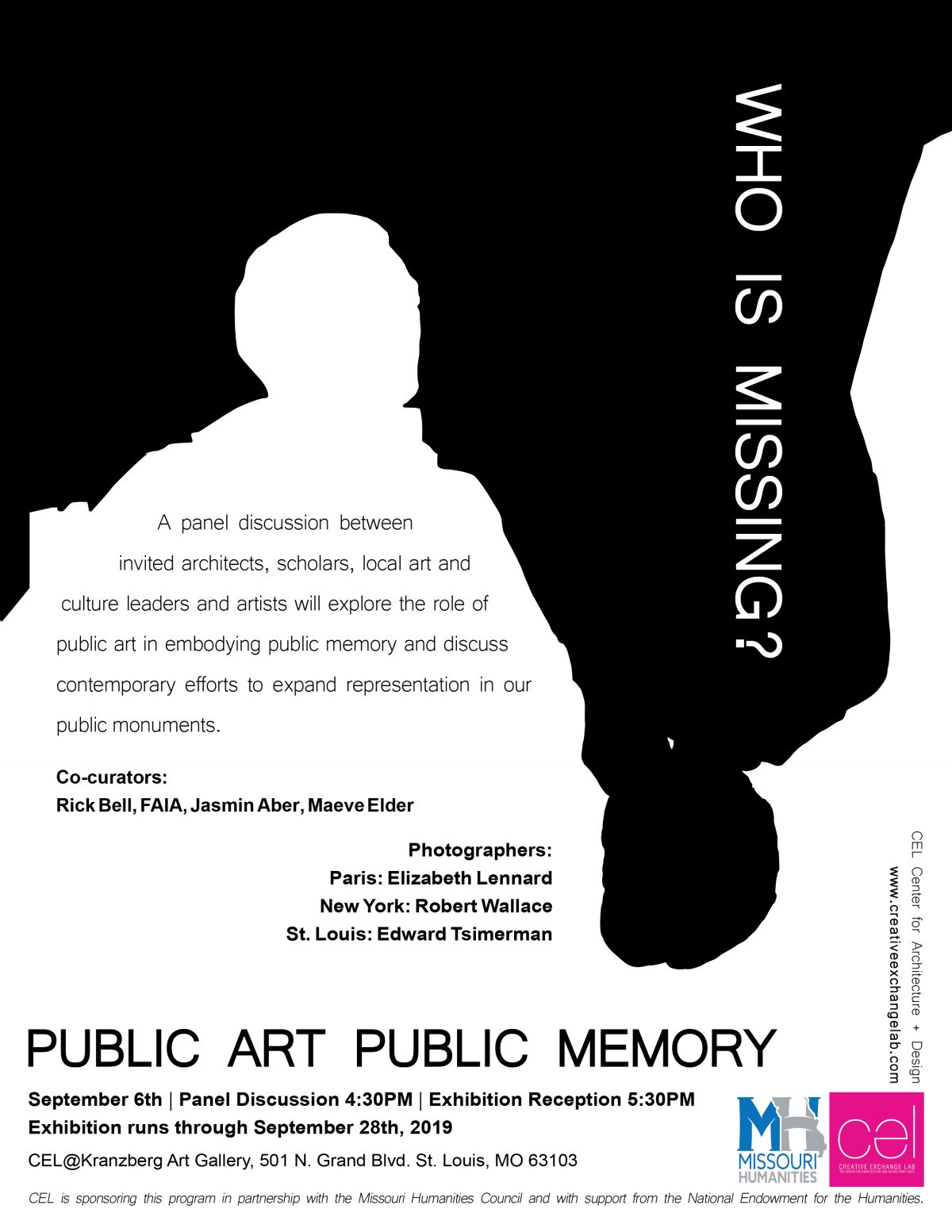 Creative Exchange Lab: Public Art, Public Memory: Who's Missing
Friday, September 6th through Saturday, September 28th
The exhibition Public Art, Public Memory: Who's Missing explores the role of public art in embodying public memory. It engages with contemporary discussion around expanding representation in our public monuments.
Gallery Hours:
Monday Closed
Tuesday Closed
Wednesday 12-7:30pm
Thursday 12-7:30pm
Friday 12-7:30pm
Saturday 12-7:30pm
Sunday 12-4pm
* Open during many events outside of above hours